HOW TO HELP A TEETHING BABY SLEEP: A GUIDE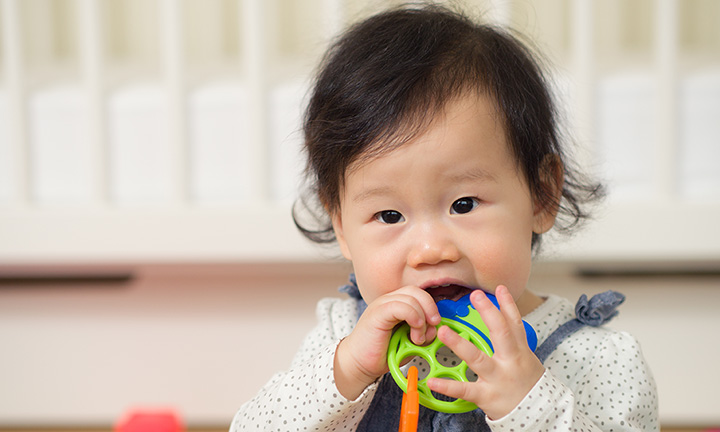 Teething is one of your baby's first big milestones - and one of the first potential sleep challenges. If your baby is teething or about to teeth, you likely have many questions, including "How long does teething last?" and "How can I help my teething baby sleep?"

We'll answer those questions – and more – here.

In This Article:
When Do Babies Start Teething
Which Baby Teeth Come in First?
How Many Teeth Do Babies Have?
How long does teething last?
How Do I Know My Baby's Teething?
Teething and Sleep
How To Help a Teething Baby Sleep
How The Smart Sleep Coach by Pampers™ Helps Teething Babies Sleep
How Do I Clean My Baby's Baby Teeth?
How To Brush Your Baby's Teeth
Why Should I Brush My Baby's Teeth?
How Often Should I Brush My Baby's Teeth?
When Should My Baby First See a Dentist?
Oral Care and Night Feedings: Can I Feed at Night?
When Do Babies Start Teething
Every baby is unique, but babies typically begin teething between 4 months and 7 months. However, sometimes your baby's first teeth appear around 3 months, other babies it's after their first birthday. It's alright if your baby is "behind" or "ahead" because, every baby develops at their own pace.
Which Baby Teeth Come in First?
Most babies first get their bottom two front teeth. These are soon followed by the top front teeth
Fun Fact: The rate of teething is typically about four teeth every six months. Also, teeth emerge somewhat symmetrically – a tooth on the right and its corresponding left tooth will appear around the same time.
How Many Teeth Do Babies Have?
Most babies have 20 primary teeth. Adults, meanwhile, have 32
How long does teething last?
After first emerging between 4 and 7 months, your baby's primary teeth will continue "erupting" until they're two-and-a-half or 3. Adult teeth will start replacing the baby teeth around age 5 or 6.
How Do I Know My Baby's Teething?
Wouldn't it be wonderful if your baby could tell you they're teething? But of course, talking is still a long way off. For that reason, you'll have to look for signs your baby is teething. These signs include:
Unexplained Crying If your baby is crying and they're not hungry, tired, or in need of a diaper, and they're in the age range, they may be teething.


More Drooling Than Usual: Excessive drooling is another common sign that your baby is teething, and much more precise than crying, which can mean many different things.


Low Fever:Teething can sometimes result in a low-grade fever, which is less than 101°F.


Face Redness or Face Rash: It's common for teething babies to develop redness or a more pronounced rash on the side of the face due to the excessive amount of drool.


Biting Hard Items: Often babies will try to sooth teething by chewing on hard items, such as a building block. If your baby is suddenly very interested in chewing on things, they may be teething.


Tender Gums: If you think your baby is teething, look inside their mouth. Do their gums look red, swollen, or tender? If so, expect some teeth to start peeking through soon.


Disturbed Sleep: Teething soreness can also make it difficult for your baby to fall asleep or stay asleep. If your baby has been sleeping soundly and suddenly wakes up, or if their sleeping patterns are particularly disjointed, teething may be a cause.
Teething and Sleep
We want to take a moment to discuss teething and sleep. Sometimes teething babies fuss more at night, making it appear as if they're more uncomfortable or in more teething pain at night. This naturally leads many parents to wonder, "Is teething pain more painful at night?" The short answer: no.

Experts believe a teething baby is fussier at night because they are less distracted; not because teething is more painful.

During the day, your baby has a lot of things to do and see and experience – all of which distracts their minds from teething discomfort. At night, in their crib, it's a different story: your baby is much less mentally stimulated and therefore may be more aware of their teething. This may lead to increased crying, which in turn disturbs their sleep more – and yours.

This can create a difficult cycle: your baby can't sleep from discomfort and then becomes frustrated from being overtired – which makes them cry even more. Luckily, there is a solution to this sleep problem.
How To Help a Teething Baby Sleep
Clear Away Drool: While drool itself won't disturb your baby's sleep; excessive drool can lead to drool rash – a skin irritation that can disrupt sleep. Prevent drool rash by using a soft, dry cloth to wipe your baby's chin and face.

A Baby Gum Massage: If your baby is teething, you can help them sleep by giving them a gentle gum massage.

Teething Rings: A tried and true method for coping with teething at night is a hard, rubber teething ring. In addition to massaging your baby's gums, the teething ring lets your baby focus on the areas that bother them most.

A Chilled Washcloth: A cool, wet wash cloth pressed against your baby's gums is also a trusted – and easy – way to alleviate teething pain to help your baby sleep. You can also let them chew on it while supervised.

Chilled Fruit: Chunks of refrigerated fruit also use the cold method to ease teething discomfort. If you use this method, though, be sure to wipe the sugar from your baby's gums before bed.

Metal Spoons: Some parents swear by a chilled spoon to soothe teething pain, others find it too – well, cold. A bonus of using the metal spoon though is that it helps build motor skills.

A Soothing Bath: Rather than soothing the teething pain itself, a warm bath soothes your baby, so they become more relaxed than restless, helping put them into the right state of mind for sleep.

Baby-Safe Teething Remedies: While there are safe over-the-counter baby teething medicines, be sure to consult your doctor before using one, and do not use adult-level medicine for your baby.

Calm, Consistent Bedtime Routines: Bedtime routines are the foundation for healthy sleep. By creating a calm, consistent bedtime routine, you do two things: one, calm your baby before bed; and two, lay the foundation for a habit that lasts a lifetime and has broad health benefits.

Creating a bedtime routine is easy with The Smart Sleep Coach by Pampers™, a new, expert-designed app that helps you teach your baby to fall asleep during teething, and beyond.
How The Smart Sleep Coach by Pampers™ Helps Teething Babies Sleep
Sleep coaching, also known as sleep training, is a process that teaches your baby to fall asleep independently – the act of falling asleep is a learned skill and your baby needs the space and time to practice this, just like other things such as rolling, crawling, walking and talking.

That may sound unnecessary to some – "Why teach a baby to sleep? They do it already." – but there's a difference between being able to sleep and being able to fall asleep independently. Once your baby knows how to fall asleep, they will be able fall asleep faster, stay asleep longer (connecting sleep cycles) and fall asleep even while teething, while going through growth spurts, and as they hit their developmental milestones.
How Do I Clean My Baby's Baby Teeth?
Caring for Newborn's Gums: While your newborn likely won't have any teeth – though some are born with a few! – you should make a practice of gently wiping your baby's gums after they eat. This will remove any sugary residue that can lead to tooth decay or damage your baby's gums.

Caring for Your Baby's Teeth: When your baby starts teething, it's time to start brushing. To brush your baby's teeth, you'll need an extra-soft toothbrush and fluoride-free toothpaste that's safe to swallow.
How To Brush Your Baby's Teeth
Use an extra-soft toothbrush
The A.A.P recommends using a "smear" of fluoride toothpaste twice a day when the first tooth appears and until age 3. Once your child has turned 3, a pea-sized amount of fluoride toothpaste can be used
When gently brushing, be sure to get all angles
Floss between any teeth that are touching each other
Later, as your baby's motor skills and understanding improve, you can teach them how to clean their teeth themselves– another habit that will last them a lifetime, just like sleep training! If your baby wants to brush their teeth themselves, make sure you take a turn afterwards to ensure they receive a thorough clean.

*Oral-B Kids electric toothbrushes can be used by children ages 3 and up
Why Should I Brush My Baby's Teeth?
While baby teeth will indeed be replaced down the road, it's still important to maintain healthy oral hygiene habits for babies. In addition to creating a positive habit for them, baby oral hygiene prevents serious disease. Just check out these facts:
The most common childhood disease is tooth decay
An estimated 20% of 2-3-year-olds will develop a cavity
Half of children – 50% - have gingivitis
Parents spend a total of 51 million hours in dental appointments for pre-school children – a huge number of lost hours that could be prevented by brushing your baby's teeth
How Often Should I Brush My Baby's Teeth?
Once a day is fine for teething babies, but you should brush your baby's teeth twice a day once they turn two.
When Should My Baby First See a Dentist?
Your baby's first dental appointment should be scheduled sometime between their first tooth and 12 months
Oral Care and Night Feedings: Can I Feed at Night?
Babies grow very fast and therefore need to consume a lot of calories. That's why babies wake up at night to eat: they need to keep growing to meet their developmental milestones. Most babies will stop needing to feed through the night somewhere between 5 and 9 months of age.

While dental hygienists recommend wiping your baby's gums or brushing their teeth after they eat, you can forego this step for night feedings. The goal with night feedings is to feed your baby without waking them too much.
FAQs:
How can I tell if my baby is teething?
mmon signs that your baby is teething include excessive drool, redness on one side of the face, or your baby is chewing on hard objects.

When is normal for babies to start teething?
Typically teething begins around 6 months, though for some babies teething begins closer to 4 months, others it's more like 12 months. Remember, each baby is special and develops at their own rate, so don't fret if your baby seems "behind" in any developmental milestone.

Can my 3-month-old be teething already?
Yes, it's certainly possible your 3-month-old is teething already, though it's more typical for teething to start between 4-6 months.

How long does teething pain last for babies?
Teething is a process that can take 2 or 3 years. Though babies often grow accustomed to the discomfort of teething, others are more sensitive. Therefore, teething pain can sporadically reoccur over the course of that time. The good news is, however, that by sleep coaching, your baby is far more likely to soothe themselves back to sleep should they experience teething discomfort at night.
Sources:
"Symptoms associated with infant teething: a prospective study," Pediatrics.
"Baby Food and Oral Health: Knowledge of the Existing Interaction," International Journal of Environmental Research and Public Health.
"Safely Soothing Teething Pain and Sensory Needs in Babies and Older Children," The FDA.