UNIQUE ORAL-B WEDDING GIFT IDEAS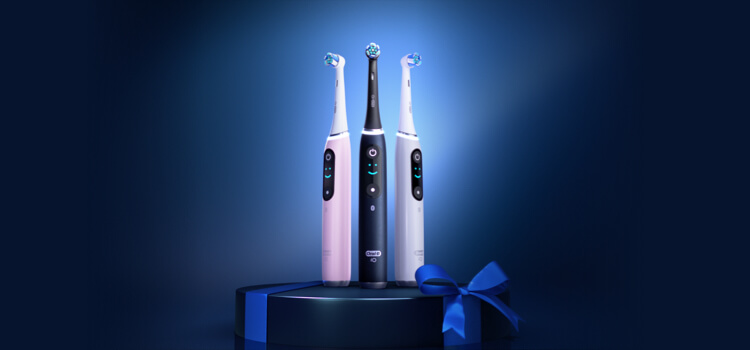 Our Best Wedding Day Gifts for Your Wedding Registry
Our Best Wedding Day Gifts for the Bridal Party
Our Best Wedding Day Gifts for the Grooms Party
Our Best Wedding Day Gifts for the New In-Laws and Parents
With the big day fast approaching, it's time to get those smiles ready to celebrate. That's why when it comes to your wedding registry or finding unique gifts for your entire wedding party, why not focus on a gift that will keep them smiling? We've rounded up our best electric toothbrushes, refills, and oral care products so you and your loved ones can reveal a brighter, whiter smile on the big day and beyond.
Our Best Wedding Day Gifts for Your Wedding Registry
Having a wedding registry may be a tradition, but traditional products don't have to be on it! For unique gifts to add to your wedding registry, a personalized clean can make for an unexpected, yet wonderful, gift. Here are some must-have items to add to your registry that you and your beloved will actually use over and over again.
Perfect Pairs: The Oral-B iO Series of Electric Toothbrushes comes in convenient twin packs. So, if you're looking for a wedding gift idea that is sure to satisfy you both, check out Oral-B Twin Packs for double the clean. That's 100% cleaner teeth, a brighter smile, and more kissable breath than a regular manual toothbrush can ever deliver.
Travel Companions: If you're active globetrotters, oral care that travels with you can make for the perfect wedding gift. The Oral-B iO9 Twin Pack includes two iO Series 9 Electric Toothbrushes and a Charging Travel Case that can not only charge the brush but your phones as well. Charging Travel Case that can not only charge the brush but your phones as well.
Everyday Smiles: When it comes to wedding day gifts, nothing beats a gift that you know you'll use every single day. Oral-B Electric Toothbrushes also come in complete solution bundles that are dentist-inspired and designed to meet your specific needs—not to mention a great way to save. Personalize your registry with bundles for Gum Protection, Whitening, or Sensitivity.
Our Best Wedding Day Gifts for the Bridal Party
Full of big reveals, and even bigger smiles, weddings are a time of celebration, so why not gift something unexpected to your bridal party? Here are our top picks for bridal gifts that will have the whole party beaming just in time for that golden hour:
Pretty in Pink: Bring smiles to your bridal party with the Oral-B iO6 Electric Toothbrush in Pink Sand. Not only does it feature the latest brushing technology for a professional clean feeling, but the brush also includes up to 5 Smart Brushing Modes making it a gift they can personalize.
Stay Gentle: To further personalize their clean, consider gifting iO Gentle Care Replacement Brush Heads. The extra soft bristles adapt to the curves of teeth and gums to effectively reach and gently clean all areas of the mouth.
Brighter Reveal: For noticeably whiter teeth with virtually no sensitivity, Crest Whitening Emulsions can prove to be a great add-on gift for any bridal party. The breakthrough formula, from the #1 teeth whitening brand in America*, is enamel-safe for daily use while highly active peroxide droplets in a water-resistant hydrating base protect teeth from sensitivity.
*P&G calculation based on U.S. reported sales data for the year ending w/o 11/21/22
Our Best Wedding Day Gifts for the Grooms Party
Oral-B brushing technology can be a great gift for even the tech-savviest of groomsmen. Here are our picks for useful wedding gifts they'll use every day, long after the wedding has passed:
A.I. for the Win: The Oral-B iO Series of brushes, like the Oral-B iO9, use A.I. Brushing Recognition and 3D Tracking to ensure every area of the mouth is covered. Plus, the brush connects to the Oral-B app for additional brushing style analysis, guidance and real-time, and brushing habit improvements.
Engineered Effectiveness: Tufted bristles work in combination with powerful, but gentle micro-vibrations to deliver a professional clean feeling every day. Inspired by professional dental tools for a tooth-by-tooth clean, Oral-B iO Ultimate Clean Replacement Brush Heads effectively polish away surface stains and remove more plaque than a regular manual, for a brighter smile and cleaner teeth.
Vivid Smiles: Let them celebrate in style and brighter smiles. Crest 3DWhitestrips 1 Hour Express remove years of stains in just 60 minutes, plus the dentist-recommended whitening treatment is completely mess-free—perfect for a pre-wedding plan!
Our Best Wedding Day Gifts for the New In-Laws and Parents
Show your appreciation with wedding gifts that will surprise and delight any parent. From easy-to-use brushing technology to a personalized clean, here's our top picks for wedding day gifts for parents of both the bride and groom.
Bundle Up: All-in-one dentist-inspired kits that not only help improve their oral health but also promote healthier gums and stronger teeth. Find the perfect wedding day gift for parents with Oral-B and Crest bundles.
Powerful Protection: Smart Pressure Sensors, like the one featured on the Oral-B iO9 , offer the ultimate in gum protection technology by alerting them when brushing is too hard, too light, and just right.
Clean Slate: Give the gift that removes years of tough set-in stains. Crest 3DWhitestrips Professional Effects are both safe and effective—the perfect recipe for a brighter smile.
Still unsure of what gifts to give on that special day? Check out Oral-B's Gift Guide and Deals for even more wedding day gift ideas.
From Oral-B, the #1 dentist-recommended toothbrush brand, worldwide.