ADA-ACCEPTED & RECOGNIZED ELECTRIC TOOTHBRUSHES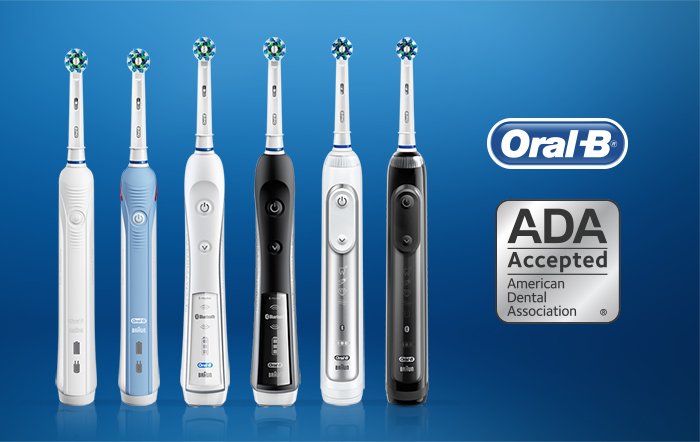 Oral-B is the First Electric Toothbrush Brand1 Accepted by the American Dental Association
Oral-B ® has been a leader in oral care for over 60 years. And now, we're the first electric toothbrush brand accepted by the American Dental Association (ADA). All models of Oral-B oscillating-rotating-pulsating electric toothbrushes including
the Oral-B Pro 1000, the Oral-B Pro 3000, the Oral-B Pro 5000, the Oral-B Pro 6000, and the the Oral-B Pro 7000,
have received this coveted designation. When considering an electric toothbrush, it helps to have guidance from the professionals who set the standards of dental care. ADA-acceptance does just that by letting you know that Oral-B rises to the level of safety and effectiveness that dental professionals recommend.
The Importance of Acceptance by the ADA
The ADA's Seal of Acceptance was founded in 1931 to help consumers find safe oral health care products that are effective. For Oral-B, that means our accepted Oral-B electric toothbrushes meet the ADA specification for electric toothbrushes, and were proven to be safe and effective at removing plaque and helping to prevent and reduce gingivitis.
Oral-B Oscillating-Rotating-Pulsating Electric Toothbrushes, the first to be ADA-Accepted
Oral-B electric toothbrushes have met all the rigorous requirements for ADA-acceptance. As a part of this process, our toothbrushes had to pass a series of ADA Laboratory tests, and meet the dental standards of the ADA and American National Standards Institute. We also submitted studies proving clinical safety and effectiveness. 2
Oral-B 3D Cleaning Action Technology Provides a Superior Clean
In general, electric toothbrushes clean better than manual toothbrushes. But Oral-B is in a class of its own with its unique dentist-inspired round brush head with special CrossAction bristle design and 3D Cleaning Action technology that pulsates to break up plaque, then rotates to sweep it away. In comparative studies with Sonicare DiamondClean, Oral-B CrossAction 3D Cleaning Action technology was proven to clean better3, 4:
Oral-B removes 33% more plaque in hard-to-reach places3
Oral-B improves gum health 32% better than Sonicare DiamondClean3
Our Most Advanced Electric Toothbrush
662
The Oral-B Line of ADA-Accepted Electric Toothbrushes
At Oral-B, we understand that everyone's oral care needs and preferences are different. Which is why we've engineered a full range of electric toothbrushes. All have the 3D Cleaning Action technology that provides superior plaque removal 5 and different models have additional features such as multiple cleaning modes, pressure sensors, Bluetooth connectivity, and even real-time feedback on your brushing habits—all to help you brush like your dentist recommends. Learn more about the features of our electric toothbrushes.
There are many choices, when it comes to electric toothbrushes, but Oral-B is the first to have been accepted by the ADA. Dental professionals agree, 3D Cleaning Action technology safely and effectively removes plaque and helps to prevent and reduce gingivitis.
Oral-B rotating-oscillating-pulsating models
Referenced from: http://www.ada.org/en/publications/ada-news/2017-archive/september/its-electric-oral-b-powered-toothbrushes-earn-ada-seal?nav=news
Ccahuana-Vasquez RA, et al., J Clin Dent 2015; 26:80-85
vs. a manual toothbrush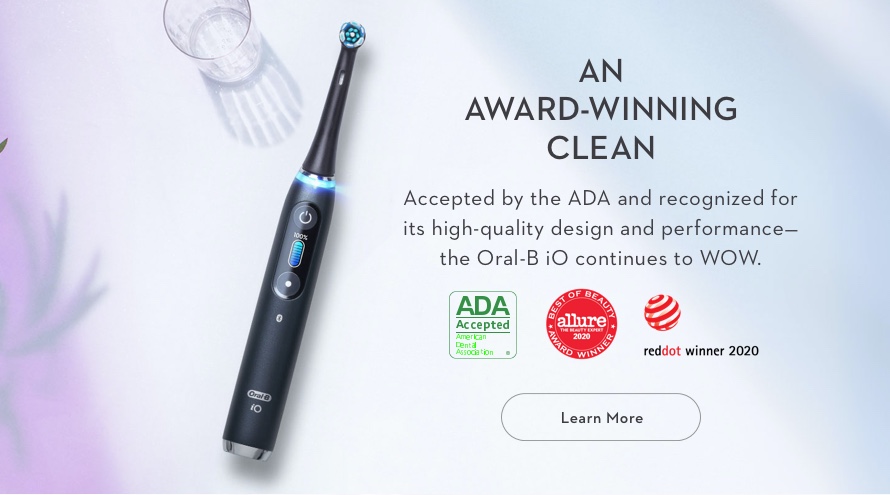 069055859636|069055125212|069055125939|069055124666
Related Articles