THE BEST ORAL-B ELECTRIC TOOTHBRUSH FOR KIDS

When Should a Child Start Using an Electric Toothbrush
How to Select the Right Electric Toothbrush for Your Kid
What is the Best Oral-B Electric Toothbrush for Your Kid?
Make Brushing Teeth Fun for Children
Getting children to brush their teeth can be difficult, often full of tears, tantrums or flat-out refusal. However, there are many ways you can make it a fun adventure and start them out with good oral hygiene at a young age. Finding the best electric toothbrush for kids that is simple and fun to use can go a long way in establishing healthy brushing habits that last a lifetime.
When Should a Child Start Using an Electric Toothbrush
If you're considering brushing your child's teeth with an electric toothbrush, wait until your child is at least three years old. Do not use an electric toothbrush with children younger than three years old. Before that, a manual toothbrush like the Crest Training Kit, Featuring Winnie the Pooh is a great option for babies and toddlers ages 0 to 3.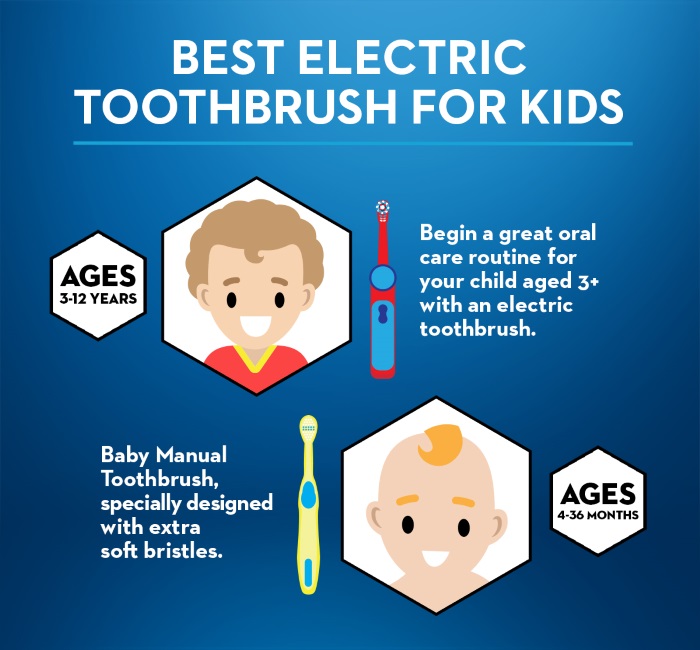 Benefits of an Electric Toothbrush for Kids
Ease of Use
Simply put, an electric toothbrush does most of the work for you. Whether it's the movement of the brush head or a built-in timer for correct brushing time, an electric toothbrush makes brushing easier.
Plaque Removal
Electric toothbrushes tend to remove more plaque than a manual toothbrush. They can also make it easier to reach tricky spots like the back teeth. By removing more plaque from your child's teeth, you're reducing the risk of tooth decay.
Child's Enthusiasm
Your child may be particularly excited about using an electric toothbrush, either because of its novelty or because they've seen you using one. This can make it easier to get them into a routine of brushing twice a day.
How to Select the Right Electric Toothbrush for Your Kid
In addition to electric toothbrushes like the award-winning Oral-B iO Series for adults, Oral-B makes a whole line of kids' electric toothbrushes with special features designed for children of 3+ years old. While they have similar brush movements and timers to their adult counterparts, Oral-B Stages Power electric toothbrushes are available in bright colors featuring their favorite ©Disney characters to make brushing more fun. They also include some of the following great features to help kids love brushing and get excited about their oral health: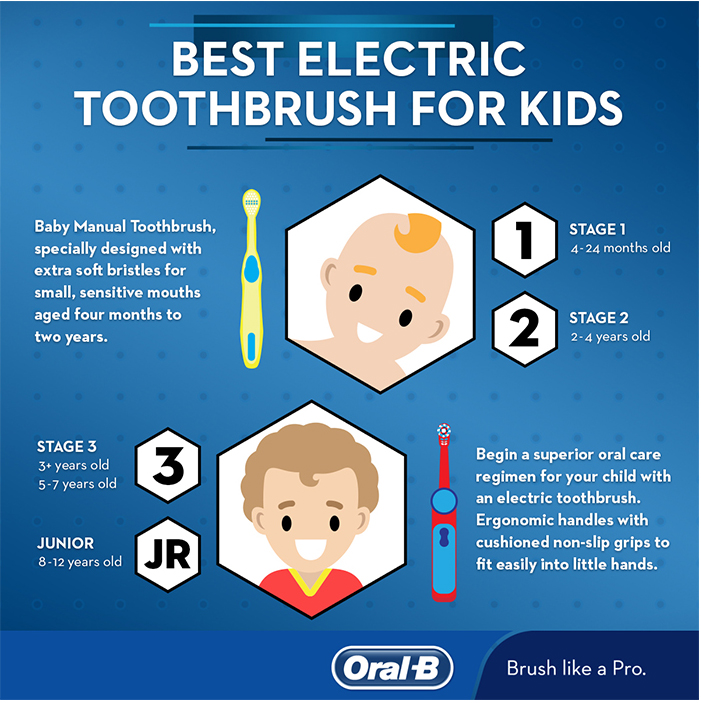 Ergonomic handles with cushioned non-slip grips to fit easily into little hands.
Extra-soft bristles and small brush heads specially designed to perfectly fit into little mouths.
©Disney, Star Wars™, LucasFilm Ltd.™, ©MARVEL, ©Disney/Pixar characters they already know and love, to make brushing more fun.
Interactive and fun elements to maximize kids' involvement in the brushing process:
The Disney Magic Timer App will make 90% of kids brush longer. While brushing, your kids will unlock new characters and stickers as a fun reward.
Catchy melodies for entertainment will help them to know when to move the brush to a different part of their mouth (only available on Dory electric toothbrush).
When your child is old enough, you should allow them to help pick out their toothbrushes. The more involved they are in the process, the more excited they will be about brushing their own teeth.
What is the Best Oral-B Electric Toothbrush for Your Kid?
Each of the Oral-B Stages kids' toothbrushes (as of 3+ years old) are geared toward children of specific age groups with a wide range of character companions, from ©Disney characters like Mickey or Winnie the Pooh, to Star Wars™ and LucasFilm Ltd.™ characters. Every stage in a child's oral health development is important, and that's why Oral-B's range can inspire fun and healthy brushing habits. You can find choices ranging from manual toothbrushes for toddlers all the way up to older kids' electric toothbrushes.
Oral-B for baby. Before you buy your child's first electric toothbrush they can use on their own, you'll need to brush your baby's teeth for them. Start with a ©Disney Baby Manual Toothbrush, specially designed with extra-soft bristles for small, sensitive mouths aged four months to two years.
Oral-B Stages manual toothbrushes are made for toddlers aged two to four. At this age, you'll want to closely supervise them while brushing and, in some cases, you may have to do it for them while they learn the proper techniques.
For children 3+, you can begin a superior oral care regimen for your child with an electric toothbrush. You can help your kids learn the ropes of brushing with a kids' electric toothbrush. Although you will still want to monitor their endeavors, you should be confident that you have started your child on a lifetime of healthy oral care habits.
Kids aged 8-12 should be brushing regularly and completely on their own. As they continue to grow, remind them of the great oral hygiene habits they have developed with Oral-B Stages Electric Toothbrushes. You can help your kids develop healthy habits with a kids' electric toothbrush like the Oral-B Star Wars Kids Electric Toothbrush. With the Disney Magic Timer™ App, brushing will always be a magical time.
Make Brushing Teeth Fun for Children
As kids continue to grow, they'll always need the right toothbrushes for the best oral care. Oral-B Electric Toothbrushes help them make the transition from childhood to adulthood with a wide variety of options that keep pace with their changing needs.
69055123669|300416642895
Related Articles